Introduction to the System
This system is mainly used for glass cover steel strip automatic rolling welding. It is suitable for unwinding, cutting and automatic rolling welding of glass cover steel strips of various specifications; the welding position is the joint straight line seam. After welding, the welding seam is firm and beautiful, and there is no black or yellowing phenomenon. After the steel strip coil is loaded on the machine, the workstation can realize the entire process of steel strip coil automatic unwinding, cutting, automatic rolling and connecting, laser welding, unloading and so on.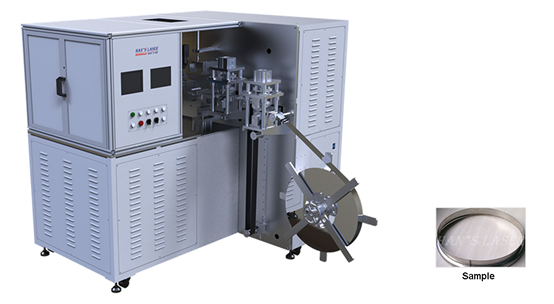 System Composition
The system is composed of a laser, a chiller, a steel strip automatic rolling station, etc.
System Characteristics
1. The machine is compact and beautiful in appearance
2. Fully automatic workstation, after the steel strip coil is loaded on the machine, the entire process of the steel strip coil automatic unwinding, cutting, automatic rolling and connecting, laser welding, and unloading can be realized
3. The human-machine interface is user friendly, simple and convenient to operate; the touch screen is used to control the operation parameter setting
4. High-precision servo motor feeding, pneumatic clamping and cutting, high-precision servo rolling mechanism, high efficiency and stability, high precision
5. The equipment has alarm functions such as no material and material jam, and the alarm information can be queried on the operation interface
6. Diameter tolerance of the steel ring after welding is less than 0.3mm